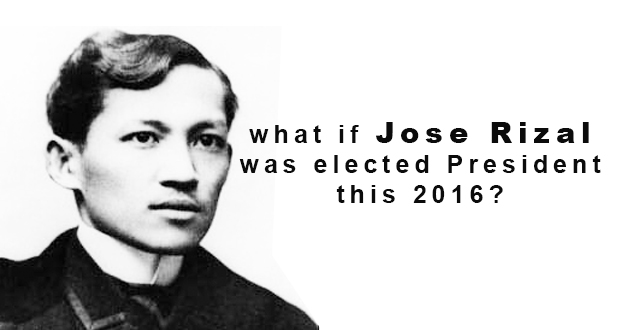 Ozzias T. Villaver, Jr., Ed.D. | BravoFilipino |
Election 2016 is over. The Filipinos had finally voiced out who will be the 16th President of the Republic of the Philippines. The champion of the presidential race was very overwhelming. No protest had been filed, no mockery was made when his name appeared finally at the top of the screen. The rest of the presidential candidates conceded and acknowledged the choice of the majority of the Filipino people. But… What if Dr. Jose P. Rizal was elected as President today?
Rizal would have been elected as President because of his distinctive strong character and unquestionable capability to lead the Filipino nation. Because the people believed in Rizal's ability and aptness to cause the trustworthy and stability of the Government, henceforth, they trusted him as their "hope and liberator" from the oppressive, opportunist and corrupt officials. And so, as President of the Philippines, he would perform his functions with democratic principles by humane and patriotism always for the welfare and security of the Filipino people.  Rizal would implement immediately his timely programs in accordance with the objectives of the Constitution of the Liga Filipina.
Here are the things he would do if he was the President-elect:
(1) Designate immediately the real patriotic people with integrity, honesty, hard-working, non-corrupt, intelligent, compassionate, effective and efficient, humane, and goal-driven cabinet members including the undersecretaries/directors/staff of the different agencies/units of the executive branch of government in order to begin his administrative functions, sacrificing friendship and kinship relationships
(2) Exercise a democratic process of just governance, transparency and accountability to maintain the trust and confidence of the Filipino people to the Government
(3) Pass the freedom of information bill and recognition of free press
(4) Harness the unique talents and skills of the individuals who could contribute for the economic development of the country
(5) Empower youth and women for social progress and standards of life
(6) Promote human rights and justice to all citizens without distinction of social status, region and religion
(7) Intensify the quality and quantity of basic needs and goods as well as services available to all, especially, the marginalized people
(8) Increase the salaries of the public school teachers and all employees of the government by twenty percent of their current compensations
(9) Establish a more realistic local and foreign investors in infrastructure projects such as telecommunication, transportation, energy resources, railways, highways and feeder roads, bridges, dams, irrigation, coastal breakwaters, school buildings, parks and recreational views;  (9) enhance the relations with foreign countries for economic and security benefits;
(10) Reengineer the Philippine educational system programs to respond to the present signs of the time.
Certainly, as a legitimate voter of the Philippines, one would dare to ask about the character and capability of this man called Rizal.  A lot of information was written about this person, however, there are many people who are still in critical dilemma if he is really capable of performing the functions of the President of the Philippines.
A Glimpse of the New President
            Who is Rizal? Complete name is Dr. Jose Protacio Mercado Rizal y Alonso-Realonda. A graduate of Doctor in Opthalmogy and a degree in Licentiate in Philosophy and Letters. A man of many gifts as a poet, novelist, essayist, journalist, traveler, historian, painter, sculptor, educator, bibliophile, philosopher, naturalist, ethnologist, scientist, polemicist, sportsman, geographer, engineer, businessman, famer, naturalist, musician. linguist, philogist, inventor, and magician.  Born in Calamba, Laguna, (Rizal) on June 19, 1896 to a prominent principalia family, Rizal grew an ilustrado, cultured, humane and sensitive (as) guided by the "lamp of reason."  His early education from Calamba Rizal home to the simple primary school in Binan, Laguna (the root of his family ancestry)(18869-1871) then to the progressive High School of Ateneo Municipal, Manila, (1872-1877) opened his sensitive mind to appreciate the history, arts and culture and the beauty of the country and then engaged  keenly to study and assess the condition of the Philippines, His four-years-study in the Dominican school, Universidad de Sto. Tomas (UST) (1877-1882), challenged his intellectual capability and had sparked his patriotic heart by joining in popular literary competitions sponsored by Liceo Artistico-Literario (Artistic-Literay Lyceum), thus, overcoming his rivals in such writing contest.  Dissatisfied by the antiquated teaching method and racial discrimination in the university, Rizal decided to finish his medical course in Universidad Central de Madrid (Madrid, Spain)(1882-1885). In Europe, Rizal expressed openly his sense of nationalism by joining the propaganda movement of the Filipino expatriates particularly in Barcelona and Madrid, Spain. He organized the Indios Bravos, Kidlat Club and the R.D.L.M. (Redencion de los Malayos) during the Univerrsal Exposition in Paris, Summer of 1889). He practiced his profession with renowned Opthalmologists in the city of Paris, France, and in the city of Heidelberg and Berlin, Germany.  He wrote his famous immortal novels, Noli Me Tangere (1887) and El Filibusterismo (1891) dedicated to the Filipino people and to unveil the magnanimous social cancer in the Philippines. Still he wrote many patriotic writings/essays for the speedy reforms needed by the Filipinos.  During his travels in Europe, he attended international conventions related to his medical profession and, sometimes delivering speeches and sharing his writings on Filipino language and culture, love of history, culture and arts that would be of great benefits for the Filipino identity.  His engagement with different organizations in Europe prepared him with eagerness to pursue his noble mission of "redeeming his own people" and transforming the identity of Filipinos from submissive and exploited subjects of Spain into a liberated and highly cultured people of his own country, the Philippines. Thus, it was so proper indeed that Prof. Ferdinand Blumentritt, a close friend of Rizal in Europe, addressed him with pride, Rizal as "the  most prominent man of his own people" and "the greatest man the Malayan race has produced".
Rizal's Leadership
Now that the country has a new President of the country, one would ask about the leadership experiences of Dr. Jose P. Rizal. To note, many Filipinos still have meager information about the leadership of Rizal.  If he had, then, what kind of leadership?  For one, who has a thorough knowledge of Rizal, he would affirm then that Rizal possesses a "multi-faceted jewel."  A man of principles. A man of upright behavior.  A man who labored by all means for socio-political change. A man who kept true to his purpose. A man who gave value to the empowerment of youth for national development.  A man who placed the important roles of women in nation-building.  A man whose supreme aspiration is the wise education of the Filipino people. A man whose works and discourses cause people to think. A man who fought  and defended at all cost the Filipino cause for its noble identity and independence. A man who sacrificed his life and died for the redemption of his suffering and oppressed people.  A man whose strong character had been envied by many of his co-expatriates and foreigners, A man whose talents and skills in many aspects of life was admired and inspired. A man whose leadership made so many adversaries and yet extolled by his fellow patriots and esteemed great foreigners.  A great Ilustrado whose democratic leadership was highly respected despite of the few who resisted to recognize him.  A leader whose progressive ideas and nobility of his actions and words as well his soul searching teachings and ideals are meant for the Filipino people so that they may be  inspired to work out together towards enjoying the fullness of nationhood – socially, culturally, educationally, economically, politically and globally under the spirit of national solidarity and self-sufficiency.
Rizal's genuine concern for the Filipino people proved advantageous for his noble and mission and activities and achievements as well. His patriotic engagement on various Filipinistic cause and foreign-land gatherings related to nationalism, history, arts and culture, were so overwhelming.  Indeed, it is evidently substantiated that Rizal's moral, educational and intellectual legacies as well as his distinguished humanitarian/community services  and, most of all, his acclaimed passion of patriotism were the basis of his unquestionable unique leadership;  would have made him a good president.